Wire Stripper Cutter Mini Portable Tool
Out of stock
Email when stock available
Description
Wire Stripper Cutter
This stripper is easy and safe to use , punch down wires on modular connectors.
Strip twisted-pair UTP/STP data cables and wires and terminates wires into 110 blocks.
Easy and safe to use,punch down wires on modular connectors.
Great for CAT-5,CAT-5e,and CAT-6 data cable.
Length: 9cm / 3.53″
Product Name: Multifunctional Wire Stripping Pliers
Material: ABS
Color: Yellow
Shape: Flat mouth
Standard: Imperial
Stripping Diameter: 5-6.2mm
Features: Wire Stripper Cutter
– Multi-functional mini compact for easy carrying mainly used for stripping.
– The blade is still sharp for a long time, and the blade is not easy to fall off.
– The wire stripper is suitable to be used when installing wall plugs or rack modules.
– This stripper is easy and safe to use , punch down wires on modular connectors.
– Strip the twisted pair UTP / STP data lines and wires and terminate the wires into one piece.
– Great for CAT-5,CAT-5e,and CAT-6 data cable.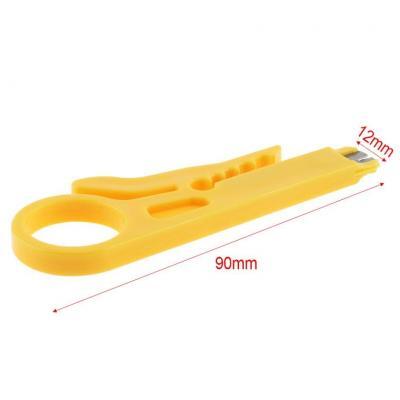 Wire Stripper Cutter
This stripper is easy and safe to use , punch down wires on modular connectors.
Strip twisted-pair UTP/STP data cables and wires and terminates wires into 110 blocks.
Easy and safe to use,punch down wires on modular connectors.
Great for CAT-5,CAT-5e,and CAT-6 data cable.
Length: 9cm / 3.53″
Product Name: Multifunctional Wire Stripping Pliers
Material: ABS
Color: Yellow
Shape: Flat mouth
Standard: Imperial
Stripping Diameter: 5-6.2mm
Related products
Out of stock